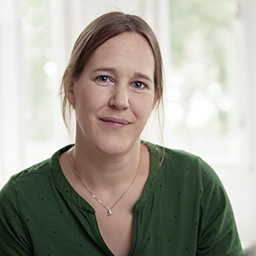 Hallo, ik ben Stefani. Sinds 2019 illustreer ik met veel plezier kinderboeken.
Ik ben geboren in 1981 en ik woon in Apeldoorn met mijn man en twee dochters. Enkele jaren werkte ik als grafisch vormgever op een reclamebureau en later als fotograaf. Toch miste er nog iets. Ik begon weer te tekenen en ontdekte zo mijn passie voor illustreren en beeldverhalen. Mijn opgedane ervaring blijkt daar een hele fijne basis voor te zijn.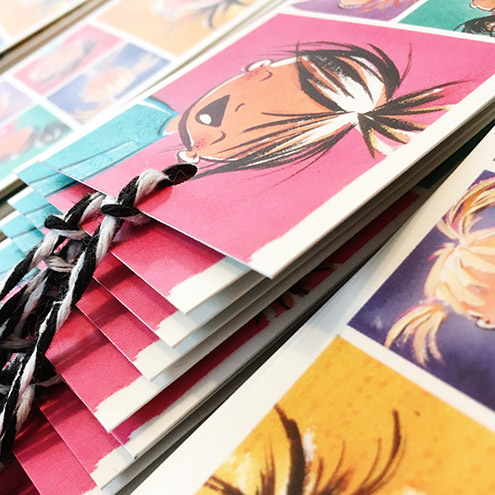 Hoewel ik gewend ben aan het digitale werken illustreer ik juist liever niet digitaal. Ik werk heel graag met inkt, aangevuld met alle andere soorten materialen, zoals bijvoorbeeld gouache, potlood, pen, stempels of knipsels.
In mijn zoektocht naar manieren om emoties zo treffend mogelijk over te brengen word ik geïnspireerd door de puurheid van tekeningen van jonge kinderen. Dat zijn zulke oprechte emoties op papier. Zonder goed of fout, mooi of niet mooi. Verder hou ik enorm van optimistische verhalen en van de kleine dingen die voor een gevoel van geluk kunnen zorgen.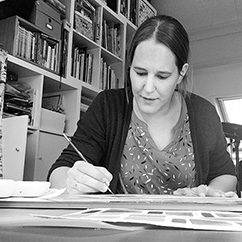 Hello, my name is Stefani. I've been happily illustrating children's books since 2019.
I was born in 1981 and I live in Apeldoorn with my husband and two daughters. For several years I worked as a graphic designer at an advertising agency and later as a photographer. Yet something was still missing. I started drawing again and discovered my passion for illustration and visual storytelling. My acquired experience in advertising proves to be a very fine basis for this.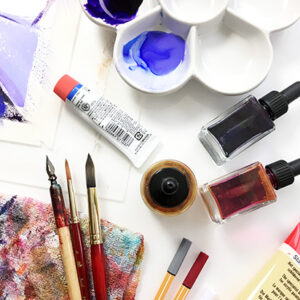 Although I am used to working digitally, I actually prefer not to illustrate digitally. I very much enjoy working with ink, complemented by all other types of materials, for example gouache, pencil, pen, stamps or cutouts.
In my search for ways to convey emotions as strikingly as possible, I am inspired by the purity of young children's drawings. These are such genuine emotions on paper. Without right or wrong, beautiful or not beautiful. Furthermore, I greatly enjoy optimistic stories and the little things that can provide a sense of happiness.